A Success Story…
Barksy Video Production
Leeds Film Company reaches new heights
Barksy is an award winning, video production company led by producer and editor, Rob Barker, who has over 12 years broadcasting experience producing promotional videos for the corporate sector.
Rob's vision was to set up a company to help support businesses get the most out of their media campaigns by understanding the benefits of integrating video and film into their marketing plans. Linking up with the Chamber's Start-Up team Rob was able to run his ideas past an adviser to make sure he had everything in place for a successful launch.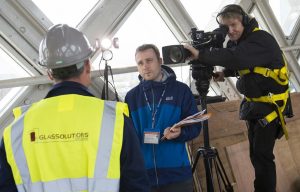 With all the fundamental business principles in place Rob has been able to focus his attention on driving his vision and company forward resulting in winning a  12-month contract to provide regular news for London's iconic Tower Bridge.
Katherine Simon, Marketing Executive for City of London Corporation, said: "Barksy provided us with some varied and interesting ideas for content, and we were impressed with the work they had carried out for other clients. They are approachable and knowledgeable and I know will provide a great sounding board for our activity throughout the year.
"The aim of involving Barksy is to give the public access to behind the scenes footage from the most famous bridge in the world. Not everyone knows you can step inside Tower Bridge. There is an exhibition, spectacular views, our beautifully maintained steam engines in the Victorian Engine Rooms and of course our fantastic new glass floor. We have many hidden secrets and video is the perfect medium to share our fantastic stories."
Rob Barker said: "We've had a really successful first two years of business, and for us to be working with such a historic and influential British icon such as Tower Bridge is an indication of how hard we've been working. We've invested a lot of money on broadcast standard HD cameras, photography equipment, LED lighting and a new sound editing facility. We're now looking to move into bigger premises and we'll also be recruiting next year."
Rob continued his association with the Chamber by joining as a member and highlighted how he was able to make great connections that led to his company being awarded the London project. "I never realised until now how many wonderful opportunities there were from being so well connected"
Rob thinks that more businesses in the north need to shout about their achievements: "We've found that businesses are failing to promote their biggest achievements – either because they are too busy or too modest. The Tower Bridge contract is a great opportunity for the company and shows other businesses how they can shout about their achievements in an engaging and informative way."
See Barksys at: http://www.barksy.tv/     Email:woof@barksy.tv
For start up guidance, access to start up funding and an introduction to networking contact us at Bradford Chamber:
Tel: 01274 772777